Trends in Nanoscience 2017
Prof. Poggio attended the "Trends in Nanoscience 2017" symposium, which took place in Irsee, Germany from the 27th to the 30th. The conference, organized by colleagues from the University of Konstanz, included 31 invited talks and 2 poster sessions withcontributions on nanoelectronics, nanomechanics, nanooptics, and magnetic nanostructures. Prof. Poggio gave an invited talk, entitled "Force Sensing with Nanowires" on the 27th. A program can be found here.
Basel-Zürich 3-1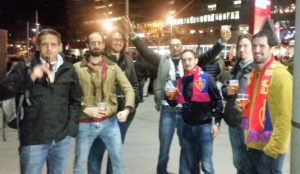 On Thursday the 2nd, group members went to Sankt Jacob-Park to watch FC Basel take on an inferior team from one of the neighboring cities. From the Muttenzerkurve, everyone had a good time watching the local team win the game 3-1 and advance to the semifinals of this year's Swiss Cup.