Ph.D. Student Benedikt Herzog Graduates
On the 23rd, Ph.D. student Benedikt Herzog successfully defended his thesis, earning his physics doctorate magna cum laude. The examination was chaired by Prof. Patrick Maletinsky with Prof. Poggio and Prof. Ernst Meyer making up the committee. Ben has been part of the lab since starting as a Masters student in April of 2011. From the beginning, he dedicated himself to a particularly challenging experiment: magnetic resonance force microscopy (MRFM). During his time in the group Ben became an expert in all aspects of MRFM including preparing samples, producing 'microwires', aligning the microscope, programming complex pulse sequences, and designing measurement protocols. Ben was particularly successful at experiments investigating the transition between regimes dominated by thermal and statistical polarization in nanometer-scale ensembles of nuclear spins. Congratulations to Dr. Herzog, we will miss you, and good luck!
Ph.D. Student Andrea Mehlin Graduates
On the 21st, Ph.D. student Andrea Mehlin successfully defended her thesis and earned her physics doctorate summa cum laude. The examination was chaired by Prof. Ilaria Zardo with Prof. Poggio and Dr. Thomas Mühl (IFW Dresden) making up the committee. Andrea joined the lab in September of 2011 as a Masters student and stayed on for her Ph.D.  After working on experiments investigating the coupling of mesoscopic transport to mechanical motion, Andrea took over measurements of nanometer-scale magnets using dynamic cantilever magnetometry (DCM). After successful experiments investigating the skyrmion phase in MnSi nanowires with Dr. Fei Xue, she went on to collaborate with Dr. Boris Groß on building a new measurement system and investigating further magnetic nanostructures. She will be deeply missed in the lab both as an excellent scientist and person. Congratulations to Dr. Mehlin and good luck for the future!
Prof. Poggio in Ulm
On the 19th, Prof. Poggio visited the Physics Department of Ulm University. He gave the a talk entitled, "Nanomechanics and Nanomagnetism" at the Department's colloquium.
Nicola Rossi in Japan
Ph.D student Nicola Rossi visited Japan to attend SpinTech IX in Fukuoka and to visit the group of Prof. Teruo Ono at Kyoto University. On Tuesday the 6th, Nicola gave a talk entitled, "Torque magnetometry of individual GaAs nanowires with ferromagnetic MnAs tips", at SpinTech IX. On Monday the 12th, he gave a longer version of the same talk for the group seminar of Prof. Ono. SpinTech IX highlighted fundamental physical phenomena related to spin-dependent effects in condensed matter and advances in the development of new spintronic materials, structures, and devices, including quantum technologies.
Swiss NanoMRI Meeting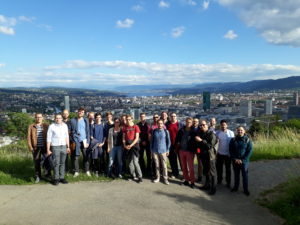 On Wednesday the 7th, group members attended the 2017 Swiss NanoMRI Meeting on the Hönggerberg campus of ETH Zürich. Members of the Degen (ETHZ), Bachtold (ICFO), and Novotny (ETHZ) groups also took part. Talks covered topics related to sensitive force-detected magnetic resonance, nanometer-scale magnetic resonance imaging, mechanical sensing, and magnetic imaging. Dr. Denis Vasyukov and Ph.D. student Davide Cadeddu both gave talks entitled, "Applications of nanoSQUIDs" and "Electric field sensing with a scanning fiber-coupled quantum dot", respectively. Dr. Floris Braakman, Lorenzo Ceccarelli, Simon Philipp, Giulio Romagnoli, and Prof. Poggio were also in attendance from our group. Special thanks to Dr. Alex Eichler for organizing a great workshop!
Swiss Nanotechnology Award
On Friday the 2nd, Ph.D. student Nicola Rossi was awarded the Swiss Nanotechnology Award for his first author publication, Vectorial scanning force microscopy using a nanowire resonator. The prize was awarded on Friday afternoon at the 2017 Swiss Nanoscience Convention in Fribourg. Prof. Poggio accepted the award on behalf of Nicola and all of the paper's authors: Dr. Floris Braakman, Davide Cadeddu, Dr. Denis Vasyukov, Gözde Tütüncüoglu, and Prof. Anna Fontcuberta i Morral. The award was offered by the The Swiss Micro- and Nanotechnology (MNT) Network and sponsored by ABB.