PRB on Magnetization Reversal in Ferromagnetic Nanotubes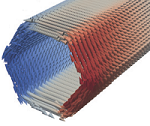 On Thursday the 23rd, Physical Review B published our article entitled, Observation of end-vortex nucleation in individual ferromagnetic nanotubes. The paper discusses experiments in our lab that have uncovered the way in which magnetization reverses in individual ferromagnetic nanotubes (FNTs). Measurements show that reversal starts with the nucleation of magnetic vortex configurations, appearing at the FNT ends. In addition, the results reveal how magnetization reversal can be controlled by changing the FNT geometry.
To be useful as storage elements in high-density arrays, nanomagnets must reverses in a controllable, fast, and reproducible way. Near edges and surfaces, however, magnetization tends to change direction in order to minimize stray field energy. As a result, surface roughness and imperfections act as nucleation sites for magnetization reversal, resulting in variability of the switching behavior from nanomagnet to nanomagnet. The high surface-to-volume ratio inherent to small structures makes mitigating these effects essential in the design of high-density memories. Although the effect of roughness cannot be completely eliminated, one way to reduce its influence is to use structures that support flux-closure magnetization configurations, which close magnetic flux lines within the magnet. Since these configurations minimize stray field, edges and surfaces play a reduced role in reversal. FNTs support flux closure, in the form of a vortex states, in which magnetization curls around their hollow core.
The study was led by former Ph.D. student Dr. Andrea Mehlin and post-doc Dr. Boris Groß. Ph.D. student Marcus Wyss and former Masters student Thomas Schefer also contributed. The samples were provided by the groups of Prof. Dirk Grundler (EPFL) and Prof. Anna Fontcuberta i Morral (EPFL).