Imaging Magnetic Vortices in Ferromagnetic Nanotubes
On the 17th, Physical Review B published our paper entitled, Imaging magnetic vortex configurations in ferromagnetic nanotubes. The manuscript describes x-ray magnetic circular dichroism photoemission electron microscopy (XMCD-PEEM) experiments imaging the remnant magnetization configurations of CoFeB and permalloy nanotubes (NTs). The images provide direct evidence for flux-closure configurations, including a global vortex state, in which magnetization points circumferentially around the NT axis. Furthermore, micromagnetic simulations predict and measurements confirm that vortex states can be programmed as the equilibrium remnant magnetization configurations by reducing the ratio of the NT's length and diameter.
The experiments were led by Ph.D. student Marcus Wyss in our lab. Ph.D. student Andrea Mehlin and post-doc Dr. Boris Groß were also key members of the experimental team. Dr. Armin Kleibert and his group from the PSI contributed their XMCD-PEEM expertise, while the groups of Prof. Anna Fontcuberta i Morral and Prof. Dirk Grundler fabricated the NT samples.
Coupling a Nano-trumpet with a Quantum Dot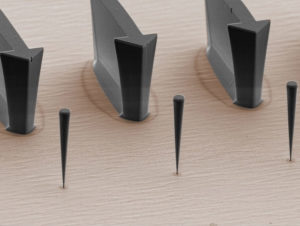 On the 14th, Nature Communications published our paper entitled, Resonant driving of a single photon emitter embedded in a mechanical oscillator. The work was led by Dr. Mathieu Munsch in the Warburton Group with Ph.D. student Davide Cadeddu from our group playing a central role in modeling and understanding the mechanical modes of the trumpet. The research shows the coupling of a single quantum dot with a trumpet-shaped nanowire. The movement of the nanowire can be detected with a sensitivity of 100 femtometers via the wavelength of the light emitted by the quantum dot. Conversely, the oscillation of the nanowire can be influenced by excitation of the quantum dot with a laser. More information is available in a news piece by the University of Basel Press Office.
Group Members at Coma-ruga 2017
From the 2nd to the 7th, Ph.D. students Lorenzo Ceccarelli and Giulio Romagnoli and Prof. Poggio attended the 13th International Workshop on Magnetism & Superconductivity at the Nanoscale (Coma-ruga 2017) in Coma-ruga, Spain. Topics of the workshop included all areas of nanomagnetic and superconducting research: spintronics, novel magnetic and superconducting phases, and low-dimensional systems. Lorenzo presented a poster on the 4th entitled, "Direct imaging of a vortex state in short CoFeB nanotubes by scanning SQUID", while Prof. Poggio gave a talk on the 6th entitled, "Magnetization configurations and reversal in ferromagnetic nanotubes".