Electric-Field Sensing with a Scanning Fiber-Coupled Quantum Dot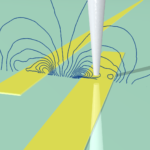 On the 30th, Physical Review Applied published our paper entitled, Electric field sensing with a scanning fiber-coupled quantum dot, as a letter. Over the years, a number of nanoscale electric-field sensors that can image single surface charges have been developed. Due to intrinsic limitations of their electrical or mechanical detection schemes, however, most operate at frequencies below 1 kHz. This study presents a scanning sensor based on an optically active semiconductor quantum dot, combining exquisite sensitivity and nanoscale resolution with high bandwidth. In addition to demonstrating the sensor's feasibility, the authors lay out the improvements required to take its performance to the physical limit, to measure charging dynamics and individual tunneling events in few-electron and mesoscopic systems.
The experiments were led by Ph.D. student Davide Cadeddu in our lab with key contributions from Dr. Mathieu Munsch, working in Prof. Richard Warburton's group. Ph.D. student Nicola Rossi in our lab also worked on the project. Dr. Julien Claudon and Dr. Jean-Michel Gérard from CNRS in Grenoble developed the quantum dot samples, which were crucial for the study.
Group Members in Trieste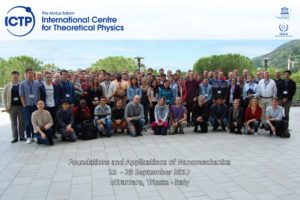 From the 25th to the 29th, Dr. Boris Groß and Prof. Poggio attended the Foundations and Applications of Nanomechanics conference at the Abdus Salam International Centre for Theoretical Physics (ICTP) in Trieste, Italy. The program highlighted recent experimental and theoretical breakthroughs in nanomechanics, optomechanics, electromechanics, sensing, photonic and phononic crystals, surface-acoustic waves, microwave-to-optics conversion, and quantum effects. Prof. Poggio gave an invited talk on the 26th entitled, "Mechanical sensing of nanomagnetic systems".
Basel-Zürich 1-0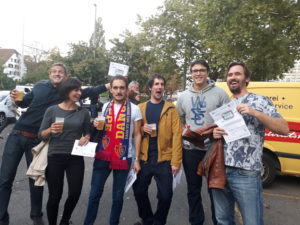 On Saturday the 23rd, group members took another trip to Sankt Jacob-Park to watch FC Basel take on a team from a neighboring city. From the Muttenzerkurve, we enjoyed watching the local team win the game 1-0.
Physics I For Biologists Starts
On Thursday, the 21st the lecture "Physics I for Biologists, Geoscientists, and Pharmaceutical Scientists" began and will run until Friday, December 22nd. The exam is scheduled for February 2nd, 2017, 9:00 – 11:00. The lecture covers the basics of mechanics, fluid dynamics, and thermodynamics for non-physics science bachelor students. Prof. Poggio is giving the lecture together with Prof. Michel Calame.
Ph.D. Student Marcus Wyss Plays Basel Rock Festival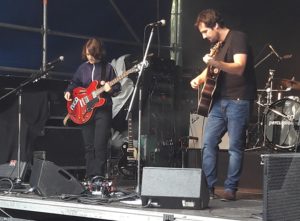 On the afternoon of the 2nd, Ph.D. student and rock-star Marcus Wyss played Basel's Jungend Kultur Festival 2017 with his band n.eo. Plenty of fans showed up, including several current and former group members. The band did not disappoint with a tight set of original music. Check them out at their next gigs in and around Basel.