Marcus Wyss Speaks in Tübingen
On Friday the 11th, Dr. Marcus Wyss gave the Institutsseminar at the Center for Quantum Science in the Physics Department of the University of Tübingen.  His talk was entitled, "Nanoscale Imaging of magnetic structures". Prof. Poggio and Dr. Boris Groß joined Marcus for the visit and the two spent Thurday and Friday discussing collaborative projects with their host, Prof. Dieter Kölle and his group members.
Group Bike Tour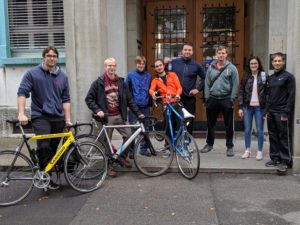 On Sunday the 6th, group members went on a bike tour from the department to Rötteln Castle, just outside Basel in Lörrach, Germany. Although a persistent rain deterred us from making it up to the castle, the weather and two flat tires couldn't stop us from enjoying some roadside whiskey and a hearty lunch at the Brauhaus Lasser. Thanks to Giulio Romagnoli for organizing. Pictures are here.
Masters Student Joins Group
Arsalan Saeedi joined our group as a Masters student in early October. Arsalan received his Bachelor of Science in Physics from the University of Basel in 2017. He is joining our lab to do his Masters project on integrating a nanomechanical oscillator into a high-finesse optical cavity.