Fundamental Electronics Begins
Prof. Poggio's course entitled Fundamental Electronics is now underway. Lectures are Wednesdays, 14.00-16.00 in 3.12. The practical sessions take place in two sessions on Mondays 15.15-17.15 and Thursdays 09.00-11.00 both in 3.12.
Group Members at Spin Mechanics 4
From the 20th to the 25th, Post-docs Dr. Floris Braakman, Dr. Boris Gross, Dr. Denis Vasyukov and Ph.D. students Marcus Wyss and Lorenzo Ceccarelli attended Spin Mechanics 4 in Lake Louise, Canada. The meeting brought together researchers working on spin mechanics from all different perspectives with the goal of stimulating further progress in the understanding and control of coupled spin-mechanical-optical-electronic systems. On the 21st and 23rd, Boris, Marcus, and Lorenzo presented posters entitled, "Dynamic Cantilever Magnetometry On Individual Magnetic Nanoparticles", "Imaging vortex magnetization configurations in ferromagnetic nanotubes by XMCD-PEEM", and "Direct imaging of a vortex state in short CoFeB nanotubes by scanning SQUID", respectively. On the 24th, Floris represented the group with an invited talk entitled, "Nanowire force microscopy and dynamic cantilever magnetometry". A full program can be found here.
Ryuichi Ohta Visits the Lab
On the 14th, Dr. Ryuichi Ohta of NTT Basic Research Laboratories in Japan visited our lab. Dr. Ohta works in the Hybrid Nanostructure Physics Research Group led by Dr. Hiroshi Yamaguchi.
Group Members at FNS 2017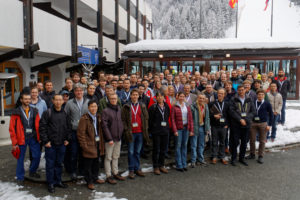 Ph.D. students Thibaud Ruelle, Nicola Rossi, and Prof. Poggio attended "Frontiers of Nanomechanical Systems (FNS) 2017" in La Thuile, Italy from the 5th to the 10th. The conference was the first meeting in a new series on nanomechanical resonators. The conference focused on all aspects  of nanomechanical resonators, including mechanical nonlinearities, out-of-equilibrium phenomena, dissipation, noise, sensing applications, and the coupling of mechanical vibrations to other degrees of freedom, such as electrons, nuclear spins, photons, and phonons. Thibaud and Nicola presented posters on their work on Wednesday the 8th entitled, "Experimental setup for combined cavity optomechanics and QED" and "Vectorial scanning force microscopy using a nanowire sensor", respectively. Prof. Poggio gave an invited talk on the 10th entitled, "Mechanical Sensing of Nanomagnetic Systems". A full program can be found here.
Two New Ph.D. Students Join Group
This month two new Ph.D. students joined our group. Both Simon Philipp and Giulio Romagnoli started work on the 1st. Simon has a Bachelors and Masters degree in phyiscs both from the University of Basel and will pursue his thesis project working on cantilever magnetometry experiments. Giulio earned his Bachelors and Masters degrees in physics from the University of Pisa. For his thesis, he will begin working on our nanoSQUID experiments.