New Ph.D. Student Starts
On the 15th, Daniel Jetter officially joined our group as a Ph.D. student. Daniel has been working in our group since January 2020, when he started as a visiting Masters student, under the external supervision of Prof. Reinhold Kleiner at the University of Tübingen. He worked on the development of a nanometer-scale SQUID-on-cantilever probe for sensitive magnetic imaging. Daniel finished his Masters in earlier this month.
Physics Today Webinar
On February 11th at 17:00 CET, Prof. Poggio will give a webinar on the Physics Today platform on the physics underlying magnetic imaging techniques, including MFM, scanning SQUID microscopy, and scanning NV-center microscopy. He will discuss how to best apply these techniques to shed light on magnetization patterns, spin configurations, and current distributions in a number of exciting condensed matter systems. Dr. Jelena Trbovic of Zurich Instruments will also discuss how lock-in amplifiers can be used with such local probing techniques to enhance their sensitivity and contrast. Register here.
Paper on Magnetic Mesocrystals Out in PRB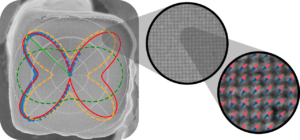 On the 4th, Physical Review B published our paper entitled, Magnetic anisotropy of individual maghemite mesocrystals. Maghemite mesocrystals are magnetic superstructures of maghemite nanoparticles, which are arranged in highly ordered lattices of up to a few micrometers in size. Although measurements on disordered ensembles have been carried out, determining the magnetic properties of individual mesoscopic crystals is challenging due to their small total magnetic moment. In our paper, we describe how to overcome these challenges by utilizing sensitive dynamic cantilever magnetometry to study individual mesocrystals.
Our measurements reveal an unambiguous cubic anisotropy, resulting from the crystalline anisotropy of the constituent maghemite nanoparticles and their alignment within the mesoscopic lattice. The signatures of anisotropy and its origins come to light because we combine the self-assembly of highly ordered mesocrystals with the ability to resolve their individual magnetism. This combination is promising for future studies of the magnetic anisotropy of other nanoparticles, which are too small to investigate individually.
Post-doc Dr. Boris Groß and Ph.D. student Simon Philipp carried out all of the DCM experiments, numerical simulations, and data analysis. External collaborators synthesized the mesocrystals.