Two Founding Ph.D. Students Move On
After short stays in the group following their graduations, both Dr. Michele Montinaro and Dr. Dennis Weber will be moving on to promising new jobs in 2015. Michele will take a position at Sensirion AG in Stäfa, Switzerland and Dennis will teach science and mathematics in the Basel school system. As the second and third Ph.D. students in the group, both Michele and Dennis were crucial to building up or lab and setting the foundations for the group as it is today. The lab will miss both of them and we wish them the best of luck in all their future pursuits!
Seminar at Max Planck Institute for Solid-state Research
Prof. Poggio travelled to the Max Planck Institute for Solid-state Research in Stuttgart on the 17th on the invitation of Dr. Markus Ternes.  There he visited the laboratories and gave the weekly seminar at the Nanoscale Science Department of Prof. Klaus Kern.
Group Members Star in SNI Video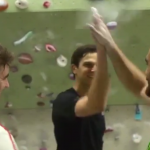 Several of our group members make appearances in a new Swiss Nanoscience Institute (SNI) video on the Masters and Ph.D. programs in nanoscience here at the University of Basel. Ph.D. students Davide Cadeddu, Marcus Wyss, Arne Buchter, Benedikt Herzog, Dr. Floris Braakman, and Prof. Poggio all appear somewhere in the 6-minute video. The section showing our lab starts at the 4:10 mark.
End of the Year Parties
To celebrate the end of another successful year, the group had two holiday parties. The first, on Monday the 8th, was a dinner at Zum Isaak on Münsterplatz together with members of the Maletinsky and Warburton Groups. Thanks to Ph.D. student Arne Barfuss of the Maletinsky group for organizing. The second, on Friday the 12th, was a late lunch for our own group members at Restaurant Gifthüttli near Marktplatz. Thanks to Dr. Dennis Weber for organizing. Happy holidays to everyone and let's look forward to another great year in 2015!